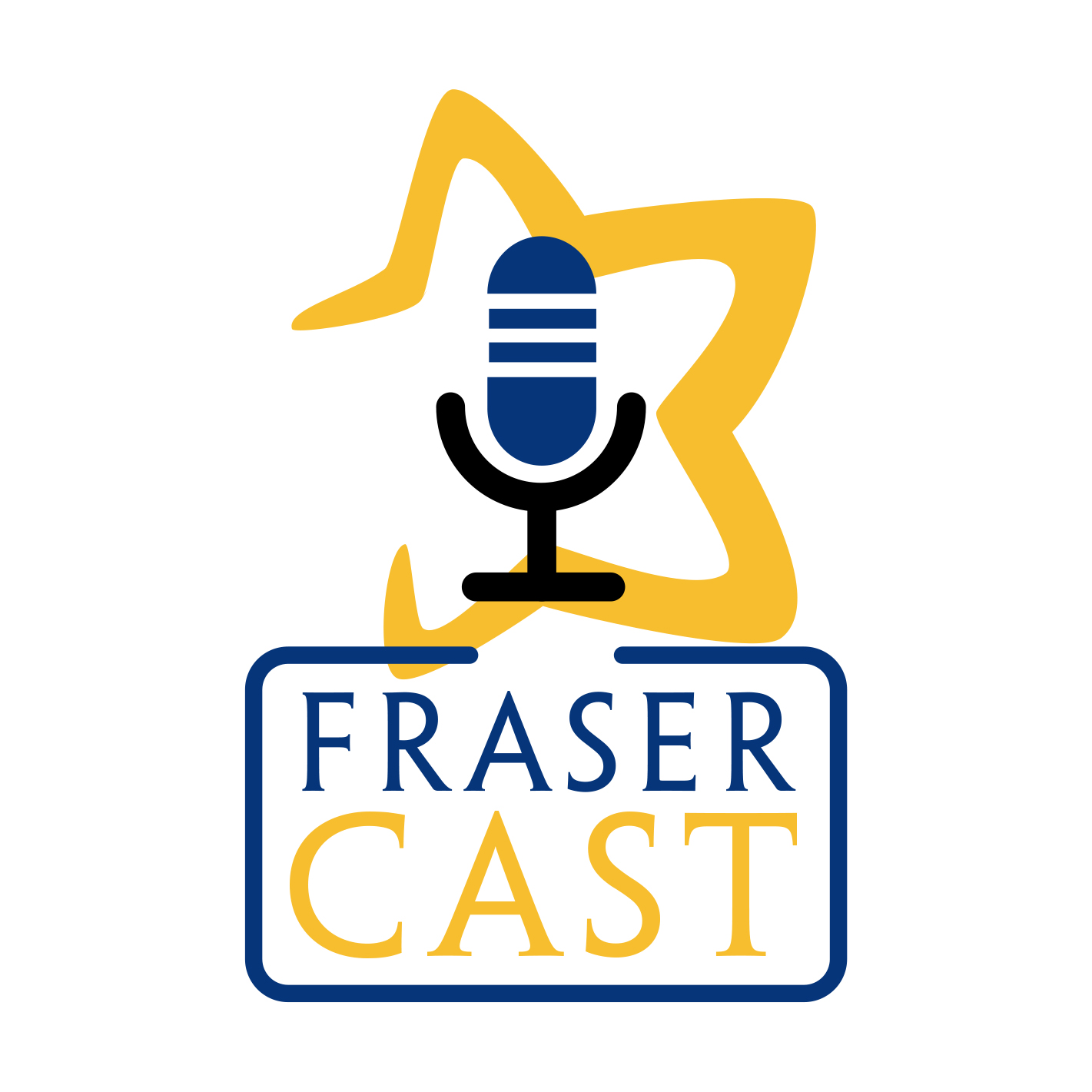 FraserCast is a place where we discuss how our community can create a more inclusive and equitable world where people of all abilities. Our community includes individuals who have varying physical, emotional and diverse needs, and Fraser is here to help. Hosted by Dave Fettig, senior editor and writer at the University of Chicago, former vice president at the Federal Reserve Bank of Minneapolis, and award-winning journalist. FraserCast is a podcast of Fraser, Minnesota's largest and most experienced provider of autism and early childhood mental health services. Visit us at www.fraser.org to learn more about us!
FraserCast Episode 02 Transcript - Early Beginnings Telehealth
Services and resources mentioned in this episode:
Transcription:
[00:00] Music Playing
[00:12] 
Dave Fettig: Welcome to FraserCast, a place where we discuss all things autism, mental health, and special needs. I'm your host, Dave Fettig.
[00:20] 
DF: Before we begin, I would like to thank our sponsor for this episode, Geritom Medical. Geritom has a strong commitment to support Fraser programs. Geritom's close and rewarding partnership with Fraser helps the amazing residents and staff that live and work at Fraser.
Geritom's focus is to serve in the Twin Cities community not solely as a pharmacy provider, but also as a strategic resource and partner. Thank you Geritom for your continued support of Fraser and the families we serve.
[00:50] 
DF: Today, we are meeting with Rachel Gardner, director of the Fraser Autism Center of Excellence. Rachel has more than 20 years of experience with serving Fraser families with autism. In 2004, she was recognized with the Carol Gray Award, a national honor for making an outstanding contribution to the lives of children with autism.
Rachel is a certified provider of Early Start Denver Model and has expertise in the areas of parent guidance, diagnostic evaluation, and outpatient therapy. Welcome, Rachel.
[01:22] 
Rachel Gardner: Thanks for having me.
[01:26] 
DF: Glad to have you back on FraserCast. So [you're] here to talk about telehealth. So let's begin at the beginning and please describe for us where this idea generated and the need for it.
[01:35] 
RG: Sure. So this is an exciting adventure for us to fulfill our mission of 35-35, so that no family will have to travel more than 35 minute or 35 miles to obtain Fraser services.
[01:49] 
DF: That's great. So in the past, how are these patients served? How are these families served?
[01:55] 
RG: So we have built a lot of buildings throughout the [Twin Cities, Minnesota] metro area to try to reach as many families as possible, but realize that there's a lot of families in rural Minnesota that just can't just can't access the range of services that Fraser has to offer. 
Many of them are getting school services and maybe some private occupational therapy or speech therapy in the communities, but not–[the community] doesn't have the whole array [of services] that Fraser might have.
[02:19] 
DF: So how are you trying to reach these families? That is to say, if I am in Grand Marais or in Moorhead or out in Marshall, do I know about in Fraser right now? Would I know about Fraser?
[02:29] 
RG: We're doing a lot of marketing and live campaigns to reach our community partners, so talking to pediatricians. Talking to schools. But we do have a lot of families who do hear about Fraser and come and get evaluations, but then the question remains where to serve them or how to serve them best after they have a diagnosis.
So we're super excited now [that] we have an option for many families that can be done within their own home, within their setting and again, us looking at the collaboration with the community partners.
[02:58] 
DF: Who are the ideal clients or patients for a telehealth service? Are there some patients who absolutely need to be seen in clinic?
[03:06] 
RG: Yep. So this is... The particular program that we're starting in 2020 is called our Early Beginnings program and this is for very young kids. It's for kids birth through four [years old] who have either an autism spectrum diagnosis or are considered at risk for that diagnosis. And this is a 12 week program, it's a parent coaching model, so we felt like this was a great way for us to really look at starting more telehealth services within Fraser.
It's built on the Early Start Denver Model. As you mentioned, it's a program for kids with autism and it's a parent-coaching model, so whether it's done in clinic or over the computer, we are actually coaching the parents to do the work. So it lent itself beautifully for us as a starting point to do more telehealth. Anybody who's birth to four [years old] with an autism diagnosis.
[03:55] 
DF: So that's the market you're focusing on right now. Birth through four.
RG: For right now, yep. And then we'll try to hopefully expand into other services, but for now, this is the program we're really focusing on.
DF: So let's talk in specifics, if we can, about the parent coaching model and how that will work with telehealth.
[04:10] 
RG: It's actually amazing. I've gotten to see it myself done a few times and in center, we know that parents are the change agents. It's not about what we do; it's about how the parents are able to work with their kids. So we actually train our staff on this model. We also train them in how to coach families and so, if it's at the [Fraser Autism Center of Excellence] or over telehealth, we're taking the back seat and we're getting parents tips verbally on how to play with their child, how to approach their child, what to say. And we're getting lots of feedback from the family.
So this is just over computers. We're able to see what the family sees. Sometimes there are movable cameras, or we just attach the camera where we need to. If it has to be done outside or if it has to be done inside; wherever the child feels most comfortable and then we're able to just coach the parent on what to do next. Honestly, if it's done well, you kind of forget that there's that piece of equipment between you.
[05:03] 
DF: Interesting. So it's happening in real time. For example, if I had a child and I would be playing or otherwise interacting with my child in real time, and I'm getting coaching from Minneapolis and I'm out in Marshall.
RG: Yep.
DF: Fascinating.
[05:16]
RG: Yep. That's exactly right. So the first session, we just take some time to explore the house to find out where the therapy might be best. We set it up, we can make sure there's no distractions as much as possible. But it's ideal that families are in their natural setting and staff is in an office at one of our seven locations and giving feedback.
[05:34] 
DF: So that's one particular use of telehealth. Is this the primary focus of this program or are you using it to diagnose or otherwise provide services?
[05:46] 
RG: Right now, the primary focus is on the intervention, looking at ways to eventually do the diagnosing, which would require some more creativity and some collaboration with some schools potentially to help us with some of the testing. There are some pieces that lend itself very nicely to do over the computer, but as we're talking about looking at very nuanced behavior and kids are quick and fast, we have to think about how to do kind of that diagnostic, and this is a question that lots of agencies are working on nationally so we can learn from each other.
But right now, that will be the focus: the intervention piece.
[06:20] 
DF: Is one of the motivating factors; [does it] have to do the fact that, if I understand it correctly, many children with autism don't travel well.
[06:28] 
RG: It's true, yep. A lot of our kids with autism have a hard time with transitions, so moving from one place to the next–one activity to the next–can be very challenging. And spending that much time in a car, we often have families who will drive an hour or more one-way to get to services and that's not easy for anybody. Not easy for the family, not easy for the kid. Siblings would have to drive along. So this is an option hopefully that they can get what they need.
[06:53] 
DF: I believe you described a 12 week process. Is that the beginning and the end of this? Or, how long does this last? How do we graduate into other sorts of programs?
[07:03] 
RG: Great question! This is the beginning, so they start with the 12-week program and then most of our families will move into... We're starting to do telehealth occupational therapy, speech therapy, which is–again–a new adventure for us. We're very excited about that. And then most families will do ongoing family therapy sessions after that. Booster sessions and potentially even family parent groups too. So we see this as a long term program, but they'll start with this 12-week program, so they have a common language and common set of expectations.
[07:35] 
DF: So this... could go on–beyond what the child, but also with the parents and family members and that sort of thing. Are you hoping to create some sort of community or network of parents around the state so they, you know, they don't feel like they're off alone somewhere?
[08:14] 
DF: So I'm up in Crookston and I'm listening to this podcast and I'm interested in this service, what would I do?
[08:19]
RG:  You would just call Fraser. There's the main number online. You can just call Fraser and say that you're interested in the Early Beginnings program and we'll take it from there.
DF: Or Fraser.org?
RG: Fraser.org! Exactly, yes. www.fraser.org, absolutely.
[08:31]
DF: What if I don't have resources–the technological resources that you're describing? You know, a fancy computer with all this, that, or the other thing. How will this work for me?
[08:40]
RG: That's a great question. Actually, the new platform we've got is very user-friendly. You can use it; you can do it on your smartphone and if someone doesn't have any of the resources, we do have on occasion lent some of the equipment to people as well.
Our first session is really just to talk to families about what kind of [internet] connection they have [and] what kind of equipment do they have, and help brainstorm options.
We've had some families that have equipment, but don't have the [internet] connection that we need where they live, so they might go to grandma's for that hour who might have a better connection for example. So there's lots of different options. We don't want that to be a barrier and so far, that has not been [a barrier].
[09:19]
DF: Is this program reserved for families outside of the metro area? That is to say, I may have a situation: I'm in the city, I'm in the metro area,  but it's just really difficult to get into the clinic on a regular basis. Can I use this service?
[09:32]
RG: We are hoping to reserve this service for families who just don't have the option to get to one of our seven metro locations. We have tried to place our clinics in areas that have a broad enough circle that families could hopefully get there within the metro area. But there's exceptions to everything, so if there's an exception, just call our main number–which is on the [Fraser] website–and talk through with a clinician about the possibilities you might have.
[10:00]
DF: Are pediatricians across the state learning about this? Hearing about this? I'm sure that's part of the goal.
[10:04]
RG: Yeah, for sure. We're doing a big marketing campaign, so we're having staff do a lot of outreach to talk with pediatricians [so] they understand what the program is along with school districts to partner with them, too, and so far we've got a lot of great partnerships happening.
[10:19]
DF: Let's back up to the beginning here again and describe for me–maybe it's been quite some time that Fraser has come to realize that a service like this would be valuable for patients in Minnesota. When did this sort of dawn on you guys? 
[10:33]
RG: Well, we've been doing this parent coaching model for a few years, maybe four to five  years, and we've been doing a little bit of telehealth. But over the years, we really wanted to find a way to make a more concerted effort with the telehealth service in general. And so we decided this would be the best model for us to launch with because it already is based on that parent coaching and there's a lot of evidence behind it nationally. We thought this was the best place for us to start because it's less about us working with the kids directly as it is us coaching the parent to do it.
[11:09]
DF: Great! So, [the program] begins with zero to four–I say "begins with" because I'm assuming there's an ellipsis here–dot dot dot. 
RG: Yep.
DF: And there are plans to expand?
[11:19]
RG: Yeah, so we plan to expand not only just this Early Beginnings program, but again, we're adding on the [occupational therapy] and speech and family therapy and parent groups as a package to this Early Beginnings program, but we're also looking at how we can use telehealth in other ways.
So right now, we are also doing telehealth mostly for feedback for our diagnostic evaluation. That's a service that many families come to us [from a] long distance away and sometimes it's hard for us to get it all wrapped up in the time that they're with us. We need to do a separate feedback session about the diagnosis and recommendation. Again, a nice way for us to use telehealth. We don't have to have the child or individual there [in a clinic]. So we are doing that already, and then we continue to look at how we might do more individual therapies, family therapies, even eventually a full range of diagnostic evaluations as well.
This is a growing trend across the nation. It's very exciting. Again, it's hard for some families to come in sometimes. If we can help meet them where they're at, then hopefully we can connect better and more easily.
[12:19]
DF: So this launches in January 2020, right now, the new year. Is it rolling out across the state right away or is it going to be a phase sort of approach?
[12:28]
RG: It's rolling out across the state. We were busy making a lot of connections as we are. We've been piloting this for a year and then with the more concerted effort in January to try to reach a lot more families. We are ready to go.
[12:41]
DF: And obviously, you have all the docs lined up; everything you need. The professionals on the other end of the computer.
RG: Yep! Staff are trained and yep! Set to go.
[12:48]
DF: Would you ever hold multi... Would you, in effect, have a class? That is to say, I'm a provider, a physician, and I have six people on at one time.
[13:00]
RG: Yeah, I think–absolutely. We're fortunate enough to have a new platform, a telehealth platform, which allows us to do more group work, so we're exploring all options. But I know that is something that has been utilized not so much with kids, but with adults in the past. We're looking at how we can maximize that for sure, either with kids or adults. Again, partnering with school districts, so there's a number of possibilities.


[13:22]
DF: And I just want to be clear for parents who might be thinking about this. This is for children and families who already have a diagnosed child, and maybe they have a relationship with Fraser or they don't yet. Do they already know you? Or is this maybe the first time they're reaching out to you guys?
[13:37]
RG: It can be both and I would also say even if they don't have a diagnosis yet and if they have concerns, they can still call and ask about the Early Beginnings program. We will help them through the next steps, which–for us to bill insurance–we do have to have some sort of an assessment with a diagnosis. But we will do that [during the] beginning of the program then. And if appropriate, then we will start Early Beginnings. Anybody can call if they have had connections with Fraser or not, if they have a diagnosis or not.
DF: Fantastic. Very exciting!
RG: Yeah! We're very excited.
DF: Anything else I've missed, Rachel, that you would like to add?
RG: No, I think we've got it.
DF: Great. Thank you, Rachel!
DF: Thank you for listening to FraserCast, a place where we discuss all things autism, mental health, and special needs. For more information, visit us at www.fraser.org. That's F-R-A-S-E-R dot org.
And once again, we'd like to thank our sponsor, Geritom Medical, a valued supporter of Fraser.