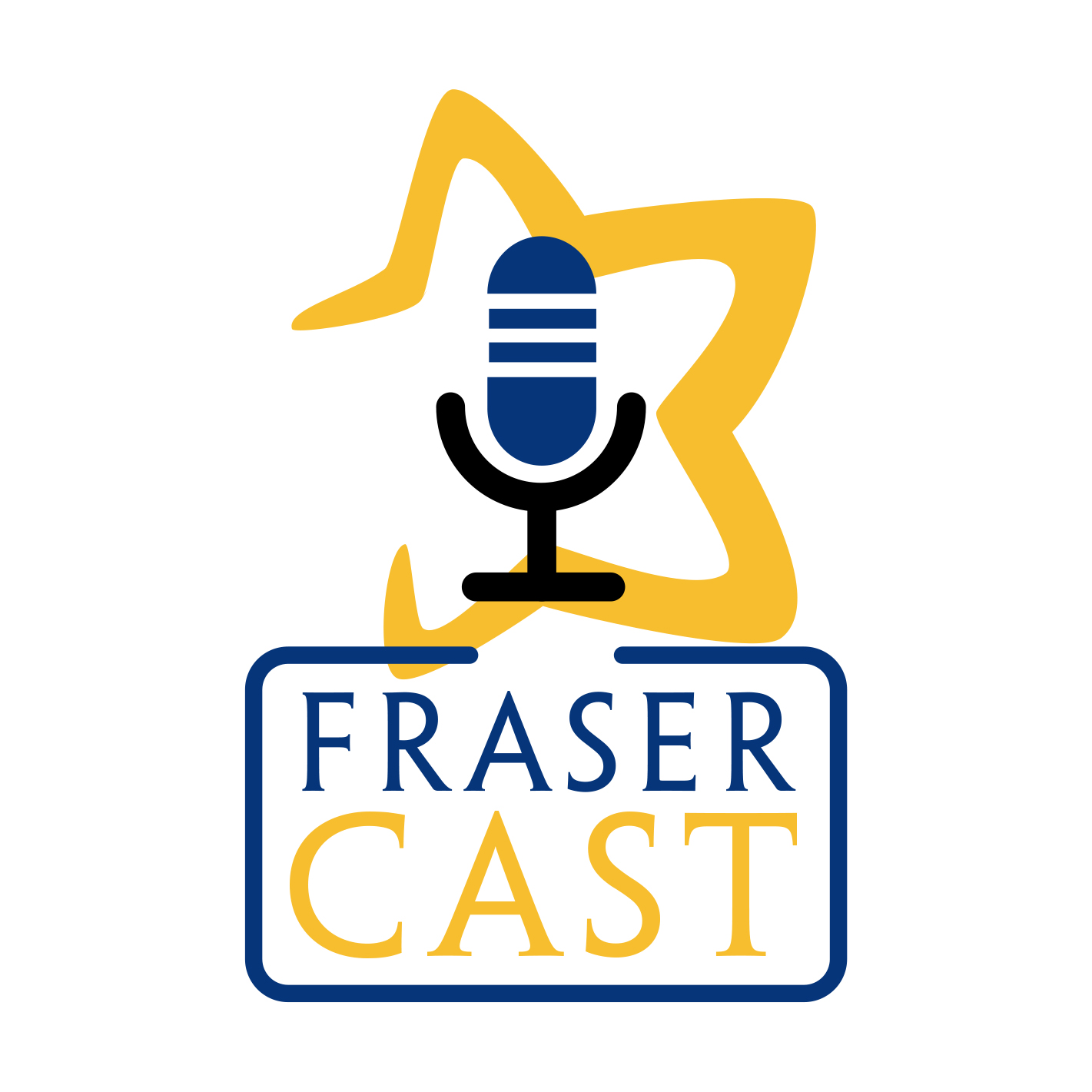 FraserCast is a place where we discuss how our community can create a more inclusive and equitable world where people of all abilities. Our community includes individuals who have varying physical, emotional and diverse needs, and Fraser is here to help. Hosted by Dave Fettig, senior editor and writer at the University of Chicago, former vice president at the Federal Reserve Bank of Minneapolis, and award-winning journalist. FraserCast is a podcast of Fraser, Minnesota's largest and most experienced provider of autism and early childhood mental health services. Visit us at www.fraser.org to learn more about us!
00:00:11:21 - 00:01:16:22
DAVE
Welcome to FraserCast, a place where we discuss all things autism, mental health and special needs. The sponsor for today's episode is U.S. Bank. U.S. Bank is the presenting sponsor for the 2020 Fraser Annual Benefit, coming to you virtually on October 24th from the comfort of your own home. Fraser and U.S. Bank are excited to invite you into a land of wonder and adventure as we explore the upside down world of Alice in Wonderland through the Looking Glass. We promise to delight you while we share stories of the amazing children, teens, adults and families that you support. The best way to explain it is to do it. For more information on how you can join in on this adventure, visit www.fraser.org for more information.
Today, we will be discussing how to prepare for the holidays with your family. To help guide our discussion, we welcome back Gina Gibson, sensory inclusion specialist here at Fraser. Gina has spent the last year driving inclusion in our community by creating a training platform that gives businesses and their employees the skills and knowledge to support customers who have sensory sensitivities.
00:01:16:52 - 00:01:17:41
DAVE
Welcome back, Gina.
00:01:18:10 - 00:01:19:41
GINA
Yeah, thanks for having me again.
00:01:20:10 - 00:01:30:48
DAVE
Great to have you back in FraserCast. Before we get into this discussion about the holidays, Gina, please remind our listeners about your program and what sensory sensitivities really are.
00:01:31:29 - 00:02:08:28
GINA
So at Fraser, we have started a sensory certification program which partners with organizations in the community to make their business practices more inclusive and accessible for individuals who have sensory needs. So those sensory needs can look like either hypersensitivities or hyposensitivities to the environment around them.
So they might have some challenges with sounds, with lights, with movement that make going out into the community a little bit of a challenge. So we work to try to remove some of those barriers so that they can have community experiences just like everyone else.
00:02:09:21 - 00:02:26:35
DAVE
Well, you mentioned sound, movements, and lights, and that immediately brings to mind a lot of holiday activities, whatever they may be. So let's jump right to that. How do sensory needs impact engagement in all of the holiday traditions for families with autism?
00:02:27:15 - 00:03:05:17
GINA
Yeah, you're right. There's a ton of sensory stimuli that goes along with holidays. Whether it's sounds from going to a large family gathering or a religious ceremony, maybe it's the visual input from decorations or lights. It might be tactile input from different foods or unfamiliar clothing. And there's also just a lot of changes in routine that happen. So holidays happen, you know, at certain times of the year, and it throws off what people might be used to doing on a daily basis. So with that comes maybe some anxiety, and it can just make things a little bit more of a challenge.
00:03:05:34 - 00:03:14:03
DAVE
Excellent. So some holiday traditions might involve dressing up in certain clothes or in costumes. So what should you consider if your family member has sensory needs?
00:03:14:25 - 00:04:22:00
GINA
So whether it's wearing dress clothes, maybe traditional holiday attire or even a costume; this can all present challenges for someone with sensory needs, especially if they have some sensory challenges around their tactile sense or their sense of touch.

One way that you can help is by having your family member pick out their own outfit or costume. Then they might be more motivated to wear it, rather than if you just gave them something to wear without their input. You could also try practicing having them wearing the clothing ahead of time for maybe a couple of minutes each day. So then you can figure out if there are certain parts of the outfit that might be itchy or irritating.

They could also wear some fitted compression clothing under their clothing to reduce any irritation. And then for something like Halloween, maybe a costume is going to be too tough for them. So maybe they could wear a cotton T-shirt that has a pumpkin or a skeleton on it. Or you could try to find a costume that incorporates sensory tools into it, such as being a construction worker wearing noise canceling headphones.
00:04:22:29 - 00:04:40:54
DAVE
So you've described the experience of an autistic child in costumes. That is to say this child wearing a costume. How about other costumes that other people are wearing regardless of the holiday? Any advice there for parents?
00:04:41:19 - 00:05:02:32
GINA
Sure. Yeah, I mean, if it's a costume that involves wearing a mask, or maybe it's something that could be a little bit scary or you're worried about how your family member might react to other costumes, you could kind of practice ahead of time by maybe looking up some pictures of the costumes that they might see. So then when they come across them, they feel a little bit more familiar and less scary.
00:05:02:55 - 00:05:19:48
DAVE
That's great advice. So Gina, when you say holidays, one of the first things I think of is food and any holiday is marked by a gathering to eat. So what if I have a family member who has limited diet or a sensory aversion to certain foods?
00:05:20:02 - 00:06:56:46
GINA
Yeah, this can definitely be a big challenge, and we want those holiday meal times to remain positive and stress-free. So one way to make sure that happens is maybe having your family member eat their meal at home before going to another family member's home for the holiday meal. Then when you're at that family member's house, you can still encourage your family member to be present and engaged in the conversation without adding the stress of needing to eat these novel foods that might be more challenging for them.
You could also maybe bring their preferred foods along to the family get-together so that you know that their physiological needs will be met. Some great ways to engage with traditional holiday foods is to encourage positive play exploration. So, for example, in Rosh Hashanah, it's a tradition to bake a honey cake. So this might be a really great opportunity to have a child engage with honey, which could be a new food for them, so they could maybe feel the sticky texture of it. They could smell it. Maybe they might be interested in tasting it. They can help with the baking process, which can provide some nice proprioceptive resistive input, and then that helps them to feel more engaged in the experience.
Some holidays might encourage fasting, such as Ramadan or Yom Kippur, and if you have an older family member who is interested in participating in the fast, you just want to make sure that you talk with their primary care provider and maybe anyone else in their care team to make sure that decision's appropriate for them.
00:06:57:16 - 00:07:06:36
DAVE
Great. Thank you. I'm not going to let you get away with saying the word proprioceptive if I have that right. So without telling us what you mean, what was that all about?
00:07:06:50 - 00:07:41:24
GINA
Yeah. So proprioceptive input is anything that gives your body deep pressure. It's something that is calming when you're doing it. So it's kind of the same idea of getting a big bear hug. So thinking about doing some baking when you're mixing up the batter and it's kind of hard work for your muscles. That's because you're giving them that deep pressure input. So if we can find ways to incorporate that deep pressure into our daily lives, it can just help with feeling more calm and then being able to take in some of that not-so-fun sensory information.
00:07:41:51 - 00:08:18:00
DAVE
Cool. And ladies, ladies and gentlemen, you have your word of the day. It's proprioceptive. So, Gina, people gathered together on holidays. These are COVID times, so I want to talk about this in two separate tracks. Let's pretend we're not in COVID times because people are going to try to get together, maybe in smaller gatherings, but they will gather in some safe way. And then in other cases, people might just decide or need to be apart, but still gather–say, for example–the way we are right now on Zoom. So let's talk about those two different experiences in terms of gatherings, please.
00:08:18:22 - 00:10:02:58
GINA
Yeah. So thinking about large holiday gatherings? So an example of this might be a celebration of Eid that in non-COVID times might happen somewhere like U.S. Bank Stadium. So you're in an environment that has a lot of stimuli to consider. The building is very large and loud. There are a lot of echoes. It might be really helpful to bring your own sensory tools if there are things you know that are helpful for your family member, like maybe noise-cancelling headphones, a weighted blanket, maybe a chewy so that you can use those tools throughout the experience to keep it more positive.
Also, thinking about something like the fourth of July, where there are fireworks shows, headphones are definitely going to be helpful there as well. Or maybe places like parades where there are a lot of people in a wide open space. We definitely want to think about safety awareness and making sure that your family member knows to stay with the group so that you don't run into anyone getting lost. Another idea you can use is maybe wearing a bracelet with emergency contact information. So in case you do get separated that someone would be able to help your family member find their way back to you quickly.

Whenever we're thinking about going somewhere that's a really large space, you kind of want to look out for anywhere that might act as a calming space, so there might be a natural area somewhere that's a little bit quieter and maybe removed from some of the action. So if you notice your family members start to get overwhelmed, they have a place to go to to kind of hit the reset button and turn off all of that external stimuli for a little bit so that they can kind of get back on track.
00:10:03:45 - 00:10:13:56
DAVE
Great. You mentioned going somewhere, Gina, and that means travel. Might be across the street, across town or across the country. What challenges during the holidays come with travel?
00:10:14:24 - 00:11:10:49
GINA
Yeah, traveling can definitely be a challenge. Thinking about traveling through an airport. We do partner with MSP (Minneapolis-St. Paul) Airport to put together a program that allows you to go and do kind of a walkthrough ahead of time so that you get to go through security and to a gate and actually get on a plane. And they give a ton of really helpful advice to parents thinking about how to choose your seats. What sort of accommodations different airlines offer. And that's something I would definitely recommend. It's called Navigating MSP.
When thinking about traveling by car, you can put together maybe your own sensory kit; kind of a to-go sensory kit and maybe putting together like a visual schedule or a checklist for your family member so that they know what to expect throughout the process. They can kind of be following along as things are happening and then they'll know what's coming up next.
00:11:11:13 - 00:11:19:53
DAVE
That's great. That Navigating MSP program sounds pretty amazing. Is that a common feature of U.S. airports or international airports? Probably?
00:11:20:18 - 00:11:57:55
GINA
It's something that they're starting to do more and more. I don't think it exists everywhere yet. And so then one of the challenges can be that, you know, maybe now you're familiar with MSP Airport, but maybe you have a connecting flight somewhere else and then that airport's going to be new.
But you can check with any airport that you're traveling through, and every airport does offer something called TSA Cares where you let the TSA know about three days ahead of time what your flight information is, and they'll actually meet you at the door and walk you through the whole process so that you're supported up until you're getting on the plane.
00:11:58:25 - 00:12:15:01
DAVE
That's great. That's great information. Thank you. So you touched on this earlier, Gina, but let's circle back to the present times and COVID and Zoom-ing and virtual experiences. Any final thoughts for our listeners on how to experience the holidays in the during the pandemic?
00:12:15:28 - 00:13:56:31
GINA
Yeah, definitely. So thinking about holiday celebrations going virtual this year; in one way, it could actually be helpful because then you're staying in your home environment, which is going to be more familiar and comfortable rather than going to new places. But it also could feel harder to be really present and engaged in the holiday traditions compared to normal.

Things are feeling different for all of us engaging through computers, phones and tablets rather than in-person. And this'll be the same for those holiday experiences, too, and that might mean that your family member has maybe a shorter amount of time that they'll spend engaging in the holiday experience. And that's OK. You can try and set up your virtual environment to be successful for your family member by having a designated part of your house for those virtual interactions, making sure that there's comfortable seating and then trying to kind of tidy up that area as [much as] possible to decrease clutter and distractions. You can also have your family member engage in some of those proprioceptive–I'll give you that word again–some proprioceptive activities, such as a yoga routine that could follow along a yoga routine on YouTube or maybe building an obstacle course in the home, something that involves crawling or jumping. And maybe they could do some animal walks so like a bear walk or a crab walk up and down the hallway.

So those are all some easy ways to give the body that deep pressure and put that don't really require therapeutic equipment, but it can be helpful to do that before something that's going to require a little bit more attention span.
00:13:56:59 - 00:13:59:32
DAVE
You know, it sounds like a good exercise for mom and dad, too.
00:13:59:56 - 00:14:02:25
GINA
Absolutely. Yeah, it's a whole family activity.
00:14:03:39 - 00:14:25:06
DAVE
Which the holidays are, and you've been very helpful today. Gina, thank you for being back with us today. For more information on sensory inclusion or any additional services that Fraser provides, please visit www.fraser.org.

Thank you all for listening and stay well.